Today, everybody is familiar with electricity. Let's say, almost everybody uses electricity as a ready-for-use energy that is provided in a clean way. This is the result of long research and engineering work which can be traced back for centuries.
Here, you will find in a nutshell some important milestones in the history of electricity.
Faraday
y
Ampère
y
Ohm
y
Maxwell
y
The Wire Loop Generator
y
A Simple Motor
y
The Alliance Machine
y
The Siemens Invention
y
Edison: The power plant
y
Tesla: Three-Phase Current
y
Transformers
y
A Useful Short Circuit
y
Addition: The Chemical Element
Although this page covers some milestones of electrodynamic machines, the chemical batteries are worth mentioning. The story started with a physician whose wife wanted to prepare diner. Her plan was: frog's legs.
Luigi Galvani
yy
Allessandro Volta
yy
Zamboni
yy
Charlatans Again
It is no surprise that serious researchers and charlatans greedily grabbed the concept of the battery and again - after Mesmerism and electrostatic fluida, now the batteries were in the focus and more than one ill person treated with electricity. Especially in the therapy of deaf peaple, charlatans claimed to have had success.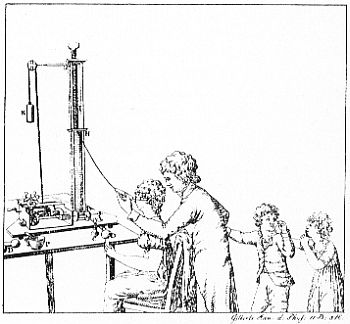 Therapy of a deaf woman by applying the
voltage of a chemical element (around 1810)
---